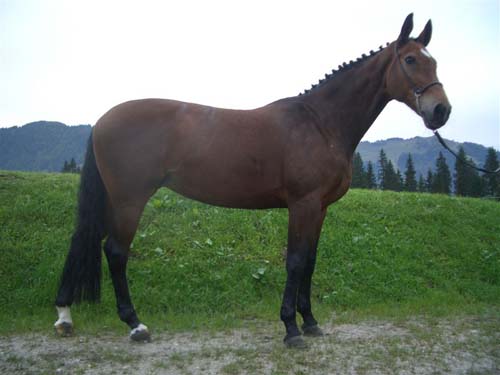 Photograph by Katharina Siorpaes. License: Public Domain.


FACTS
Description
The Bavarian Warmblood is a relatively new breed that was created in order to come up with a line of superior sport horses. It is a descendant of its predecessor which is the Bavarian Heavy Warmblood called Rottaler. This breed of horses is the contribution of southern Germany to the world.

The registered Bavarian Warmblood horses have a brand on their left thigh which is a "B" surrounded by a crowned shield. This is one of the easiest ways to recognize these horses. When it comes to the inner qualities, jumping, movement and conformation, the Bavarian Warmblood horses are similar to the other German Warmbloods.

The height of the Bavarian Warmblood is between 15.2-17 hands. These horses are have an elegant look and are visually appealing. They have a clear expression of their sexes and dry heads and limbs. Their gaits are rhythmic and elastic in nature and are energetic. They have great movement and athletic ability.

Size
15.2 - 17 hands

Colours
The Bavarian Warmblood horses can have coats of any solid color. Horses that have white patterns on their coat cannot be registered under this breed.

Suitable for
These horses are bred specifically for participating in various competitions during Olympics and for pleasure riding purposes. These horses can be seen in a variety of competitions like show jumping, dressage and eventing. These horses are also a preferred choice for combined driving.

History
The heavy Warmblood Rotaller is the predecessor of the Bavarian Warmbloods. The breeding for riding horses began in the year 1963 and the Rotallers were renamed "Bavarian Warmbloods".

The Bavarian Warmbloods carry traits of the Hanoverians, Trakehners, Thoroughbreds, Westphalians and Holsteiners and many other breeds. There are four registries in various parts of the world for these horses and they have over 11,000 mares and 500 stallions registered under them.

The breeding stallions undergo a complete physical check before breeding. Though most of the horses are free of any congenital diseases, a few horses are prone to Osteochodrosis which is the main health concern in this breed.